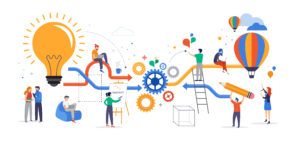 On July 27th, we officially announced the 30 winning initiatives that will implement their innovative ideas in the media and journalistic sector with the financial support of Stars4Media. The 185 media professionals from 22 different European countries will cooperate across borders to bring their ideas to life in the timeframe of 15th of September until 15th of January 2022.
During this time, we will proudly introduce all winning initiatives in a series under the umbrella of six distinct macrotopics:
New Revenue models
New frontiers of journalism
Education, Empowerment, Engagement
Artificial Intelligence
The series will give an exclusive glimpse into the details of the proposals, including interviews with the initiative leaders.
Once published, the articles can be found in the news and press releases section on this website. To stay up to date, you can also check out our LinkedIn page, where the articles will be announced.
TikTok for Journalism
Small independent local/regional newsroom cooperating cross border – developing a business model based on membership
Sol(vox), the solution podcast of Solvo, a solution journalism collective
Let's educate on TikTok
Stolen identity
Connecto: towards European values through digital media. The Live Streaming Hub
A force for good and a force for growth
For a constructive television in southern Europe
Sex Ed Video Glossary
Mind the Challenge
Euromag
AI to Enhance Creativity in Newswriting
SMART Podcasts / Accordion
Let the money talk – a data tool on public spending
Vocento & Cruncho join forces: Hyperlocal tourism content in Spain powered by AI
Artificial intelligence in photojournalism, can it work?
Article 7 Intelligence – Helping Newsrooms across Europe close the Accountability Gap
Videre AI: Next generation video understanding for news content
Virtual Humans in media contexts
Project Empire
Reading with your ears
TemplAR (Templates in Augmented Reality)
RISE Project Mobile App for Loyal Readers
Rich media: Increasing Diversity of Experts' Voices in Journalism
Solutions Journalism European MOOC (Massive Open Online Course)
Monetizing audiences in a cookieless world
Building sustainable revenue models with community-centric media trainings
The Self-Investigation Academy: an e-learning platform to scale up our successful stress management course for journalists
Engaging the disengaged from local news, and attracting new newspaper subscribers through non-reader engagement
Interactive Map for Audio Stories
Learn more about the process behind the second edition on the links below: