Aside from evaluating the proposals for initiatives, the pool of Stars4Media media experts (coaches and jury members) is providing guidance and coaching to media innovators applying to join the training programme. Media professionals can benefit from the support of a media expert, providing coaching and guidance, during the application phase and while carrying out their initiative.
During the application phase, from February to June, the goal is to make sure that the application criteria are met and the proposal is in line with the Stars4Media objectives. The coach will not be involved in the jury evaluation of the applicant to whom he/she provided coaching. Applicants who want to benefit from the support of a Stars4Media expert will have to send a pre-filled Proposal for initiative form by the 15/04/2021.
You can read here the call for initiatives including the form.
Media professionals will receive constructive feedback during the Stars4Media Lab virtual training event in early June: applicants will be invited to pitch their initiatives and attend coaching sessions. They may submit their reworked proposals by the July 1st deadline. Around 30 initiatives will be eventually selected and participants will be able to start their collaboration in September 2021.
Applicants who submit an application by the last deadline (01/07/2021) and who are interested in getting support from a Stars4Media expert, will have to send a pre-filled Proposal for initiative form by the 15/06/2021.
List of Stars4Media coaches/jury members, grouped by thematic waves: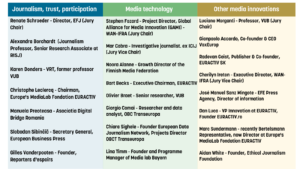 Stars4Media Helpdesk: Contact us at info@stars4media.eu or call us at: +32 (0)456 19 86 84

Join now the Stars4Media LinkedIn Community to exchange ideas and find partners!